Title: The Golden Apple
Series Title: The Dark Forest
Author: Michelle Diener
Date Added: February 25, 2016
Date Started: February 20, 2018
Date Finished: March 12, 2018
Reading Duration: 20 days
Genre: Fantasy, Romance, Fairy Tale, Young Adult (YA)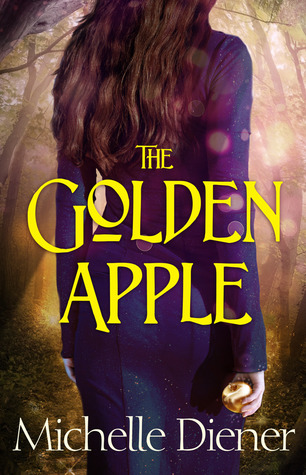 Pages: 298
Publication Date: March 23, 2014
Publisher: Self
Media: eBook/Kindle
---
Kayla's world has been turned upside-down . . . 
Her father has made her the prize in a deadly, impossible tournament, and Kayla has retaliated in the only way she knows how; by choosing her champion beforehand. But taking control of the outcome changes the game completely, and when the real reason behind the strange test becomes apparent, Kayla realizes not just her life, but her entire kingdom is at stake.
Rane's honor is torn in two… 
In order to save his brother, Rane will do whatever he has to–including deceive and betray a princess. He knew nothing about this tournament would be easy, but when it turns into a deeper, far more sinister game, Rane is forced to see it through to the end, or leave his brother at the mercy of their enemy.
Now their fates are entwined, and they must venture into the deep, dark forest together . . . 
Kayla and Rane are bound to one another by an enchantment and Kayla's actions. But the sorcerer forcing them to do his will may have miscalculated, because no-one comes out of the Great Forest unchanged. No-one.
The Golden Apple is loosely based on the fairy tale The Princess on the Glass Hill.
---
Per the blurb The Golden Apple starts with "The Princess on the Glass Hill," which is not a fairy tale I was familiar with, but it follows the typical fairy tale rules.  The unlikely hero is Cinder Lad, the youngest brother of three who's ridiculed, bullied, and forced to live among the ashes.  However, he was the only one brave enough to stay in the barn the entire night when the noises outside frightened his two eldest brothers away.  The source of the noise was a copper laden horse the first night, a silver chased one the second, and a gold bound one the third.  When the king offers up his daughter to the man who can climb the glass hill and retrieve three apples, the two older brothers mock Cinder Lad for even thinking to participate, but then they and all the other men are bemused when a knight in copper armor on a copper laden horse rides up a third of the hill before backing down again.  The princess tosses him one of the apples before he rides away.  The next day comes the silver chased who goes two-thirds of the way up for a second apple, and finally the gold bound goes the full tilt to win the third fruit and princess' hand, half the kingdom, and his brothers' shock because SURPRISE it's Cinder Lad.