<–The State of the Reader: 12/5/18          The State of the Reader: 1/2/19–>
A weekly post updated every other Wednesday detailing my current reading projects and what new titles I've added to my to-read list.  Title links go to Goodreads, and if you have an account there feel free to friend me!  I'd love to see what you're reading and/or planning to read.
---
Books Purchased: 1
---
Books Finished: 2
Title: Muse of Nightmares
Series Title: Strange the Dreamer
Author: Laini Taylor
Date Added: December 20, 2017
Date Started: October 6, 2018
Date Finished: December 5, 2018
Media: Hardback
There was one point where I thought the plot was a little slow, but the ending more than made up for it, and it wasn't so much slow as establishing.  It's just as amazing as the first book and one of the few duologies I've read, though there might be (and god I hope there is) more.
Title: Fallen Queen on Crystal Lake
Series Title: Moon Investigations
Author: B. Batiste
Date Added: June 1, 2018
Date Started: December 6, 2018
Date Finished: December 19, 2018
Media: eBook/Kindle
I love revenge stories, and this one ends on a cliffhanger for the overarching plot of series even as it wraps up the book's.
---
Currently Reading
Title: Tigana
Author: Guy Gavriel Kay
Date Added: February 9, 2016
Date Started: December 8, 2018
Media: Paperback
Progress: 11%
I remember falling in love with this book's prologue when I read a sample of it years ago.  With just a few pages, Kay weaves a tale of utter beauty and tragedy.  I was shocked to see this was published in 1990 but I'd never heard of it before.  I would've loved this in high school.
Title: The Hero With a Thousand Faces
Author: Joseph Campbell
Date Added: April 24, 2014
Date Started: December 3, 2018
"Dream is the personalized myth, myth the depersonalized dream."  I'm still on Chapter 1 but getting good notes.
Title: The Phantom of the Opera
Author: Gaston Leroux
Date Added: November 29, 2018
Date Started: December 2, 2018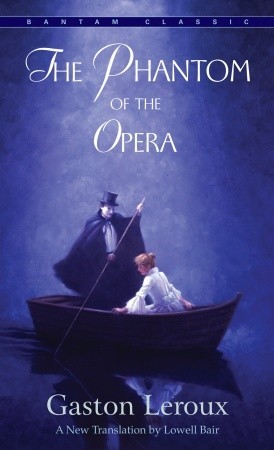 Media: Paperback
Progress: 19%
I remember reading some critique that this version was boring, but I'm not finding such an issue here.  Maybe because I've known this story most of my life.  Susan Kay's Phantom focused on the titular character whereas this starts with the opera itself and how the new managers didn't initially believe Debienne and Poligny's warnings about the "opera ghost."  They will find out to their rue.
Title: Angels' Blood
Series Title: Guild Hunter
Author: Nalini Singh
Date Added: May 11, 2017
Date Started: November 2, 2028
Media: Paperback (Library)
Progress: 71%
I wish I had more time to devote to this.  I think I only have it on my schedule to read twice and week, and I'm pretty sure it's due soon with no more renewals.  I intend to buy it and the next as soon as I'm finished.  It's so fucking good.  
---
I forgot I had to post this this week.  I worked late tonight, and I'm tired and not feeling the Christmas spirit at all
  We didn't have time to get a tree this year, though I'm half debating running to Target and picking up a tiny fake one in an attempt to lift my spirits.  Usually I love listening to (specific kinds of) Christmas music, but I don't have the heart for it.  You know how you scroll through your music because there's just nothing you want to hear?  Yeah.  I haven't gotten a fake tree in years, and I actually try to avoid them.  They're worse for the environment than real trees, which surprises people, but when you consider real ones are grown for that specific purpose and you can recycle them whereas fake ones are usually made with PVC plastic, which never goes away, it starts to make sense.
Anyway, this is the last SOTR post for the year.  I've made my reading challenge and am at 51 books currently.  I'll probably finish Angels' Blood before the month is out and might be able to get through a short Kindle, but I'm not going to push it.  Next year my reading challenge is going to be 20.
---
<–The State of the Reader: 12/5/18          The State of the Reader: 1/2/19–>