<–The State of the Reader: 12/19/18          The State of the Reader: 1/16/19–>
A weekly post updated every other Wednesday detailing my current reading projects and what new titles I've added to my to-read list.  Title links go to Goodreads, and if you have an account there feel free to friend me!  I'd love to see what you're reading and/or planning to read.
---
Books Obtained: 8
---
Books Finished: 2
Title: Angels' Blood
Series Title: Guild Hunter
Author: Nalini Singh
Date Added: May 11, 2017
Date Started: November 2, 2018
Date Finished: December 27, 2019
Reading Duration: 55 days
Media: Paperback (Library)
This book was everything I wanted and more.  It is exactly how I love to see angels portrayed: dangerous, mysterious, and sexy.  There are so many vampire stories out there, and there are so many where vampires are compared to angels, but this one was unique as it made vampires and angels distinct entities, but gave them an integral connection.  I've already bought the next book in the series (as noted above), and it's the next one I plan to read after I finish my current fiction/fantasy.
Title: The Good Mystic
Author: Talia Haven
Date Added: December 26, 2018
Date Started: December 28, 2018
Date Finished: December 31, 2018
Reading Duration: 3 days
Media: eBook/Kindle
This was gifted to me by the author a few weeks ago, and I kept the promise I made and finished it before the new year (if barely).  I'm going to break my order and try to get a review for this out soon.
---
Currently Reading
Title: Calling All Angels
Series Title: Shadow Council Case Files
Author: John G. Hartness
Date Added: November 24, 2018
Date Started: December 20, 2018
Media: eBook/Kindle
Progress: 50%
The title of this of course drew my attention, and I loved the cover (Black female MC hooray!).  Then the blurb sealed it.  Johanna is the descendant of John Henry (yes, that John Henry).  She's an editor by day and moonlights as an underground boxer looking for the Archangel Michael who's lost his memory.  It sounds like it would be too busy, but it's really well put together, fast paced, and the author did his due diligence.  Neither Jo nor her mother come off as stereotypical but rather realistic.  The boxer is instantly likable with how she treats others, and this is going to be another series I'll probably continue.
Title: Tigana
Author: Guy Gavriel Kay
Date Added: February 9, 2016
Date Started: December 8, 2018
Media: Paperback
Progress: 20%
This novel was doing intrigue years before A Game of Thrones, and I love it.
Title: The Hero With a Thousand Faces
Author: Joseph Campbell
Date Added: April 24, 2014
Date Started: December 3, 2018
I may not have gone up percentage-wise, but I did at least finish the first chapter.
Title: The Phantom of the Opera
Author: Gaston Leroux
Date Added: November 29, 2018
Date Started: December 2, 2018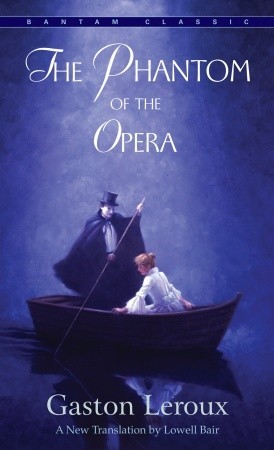 Media: Paperback
Progress: 25%
I haven't read this as much as I've scheduled, but I'm a quarter of the way done.
---
I definitely got a great Christmas haul this year in terms of books, and I already set my Goodreads Challenge to 20.  I'm cutting down this year so I can focus on writing and gaming (the focus of my other two status posts if you haven't noticed).  I'm not sure how I'm going to rearrange my reading schedule.  I'm still definitely going to read at least my Kindle every day, but I may not pick up another classic once I finish Phantom, so I can use that time for writing or whatnot.  Hero will probably take me the better part of the year to read, so I'm not going to lose my reference/non-fiction anytime soon.
Have you set a reading challenge for this year?  Is it more or less than what you did last year?  I'm trying to be less stressed in 2019.
---
<–The State of the Reader: 12/19/18          The State of the Reader: 1/16/19–>