<–The State of the Reader: 1/2/19          The State of the Reader: 1/30/19–>
A weekly post updated every other Wednesday detailing my current reading projects and what new titles I've added to my to-read list.  Title links go to Goodreads, and if you have an account there feel free to friend me!  I'd love to see what you're reading and/or planning to read.
---
Books Obtained: 0
---
Books Finished: 2
Title: Calling All Angels
Series Title: Shadow Council Case Files
Author: John G. Hartness
Date Added: November 24, 2018
Date Started: December 20, 2018
Date Finished: January 9, 2019
Reading Duration: 20 days
Media: eBook/Kindle
This was so good.  It's clear to see that this story is part of a much larger once, as there were characters mentioned and hints dropped about things that had happened before; however, this didn't take away from the novella, which has it's own contained plot arc.  I'll be continuing this series.
Title: The Curious Case of Benjamin Button
Author: F. Scott Fitzgerald
Date Added: October 27, 2018
Date Started: January 10, 2019
Date Finished: January 16, 2019
Reading Duration: 6 days
Media: eBook
If you can get past the horrific racism, sexism (Mrs. Roger Button, Benjamin's mother doesn't even have her own goddamn name), and the fact that the MC's father is a gigantic dickhead, it's actually kind of poignant.  Now, I know I'm looking at this through 2019 eyes, but remember, bigotry isn't terrible because it's 2019, it's always been terrible, but now we're just realizing how horrific the past was.  Anyway…I can see the appeal and whimsy, and I think once I let it marinate, I'll be able to better talk about what I think Fitzgerald was trying to say.
---
Currently Reading
Title: Tigana
Author: Guy Gavriel Kay
Date Added: February 9, 2016
Date Started: December 8, 2018
Media: Paperback
Progress: 28%
I have never gotten such a chill from seeing the title of a story written…maybe with ASOIAF, but they're pretty equivalent.
Title: The Hero With a Thousand Faces
Author: Joseph Campbell
Date Added: April 24, 2014
Date Started: December 3, 2018
I finished up the prologue and first chapter.  I consider this excellent progress.
Title: The Phantom of the Opera
Author: Gaston Leroux
Date Added: November 29, 2018
Date Started: December 2, 2018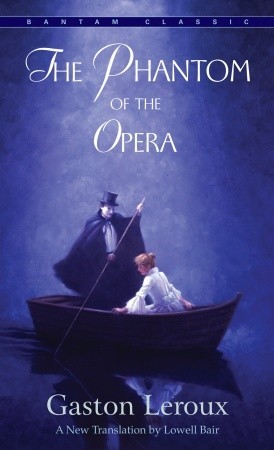 Media: Paperback
Progress: 42%
If you thought the musical was dramatic omfg this book.  Raoul is so goddamn extra, way more extra than in the musical.  He's about as outrageous as the Phantom to be honest in insisting that Christine love him.  I can't wait to see what else happens.
---
I'm going back to my Shakespeare project as in attempting to read all of the Bard's works.  I also need to look at my series continuations and re-reads because one of my goals this year is to continue series and re-read some of my favorites.
<–The State of the Reader: 1/2/19          The State of the Reader: 1/30/19–>