<–The State of the Reader: 1/16/19          The State of the Reader: 2/13/19–>
A weekly post updated every other Wednesday detailing my current reading projects and what new titles I've added to my to-read list.  Title links go to Goodreads, and if you have an account there feel free to friend me!  I'd love to see what you're reading and/or planning to read.
---
Books Obtained: 1
Hard Day's Knight by John G. Hartness – $2.99 @ Amazon
---
Books Finished: 0
---
Currently Reading
Title: Antony and Cleopatra
Author: William Shakespeare
Date Added: January 16, 2019
Date Started: January 17, 2019
Media: eBook/Kindle
Progress: Act 1 Scene VII
I'm recording the progress a little different since I have no way of easily telling how far along I am in the play percentage-wise.  I'm reading it from a compendium of all the Bard's works so it's only giving me the percentage of the entire thing I've finished.
I like this one better than the last Shakespeare play I attempted to read: All's Well That Ends Well.  It's far more interesting and intriguing.  I guess I just love the drama lol.  It starts off with the titular characters together in Egypt then Antony is recalled to Rome after his wife (!!!) is killed attempting to make war on Octavius Caesar. Cleo doesn't want Tony to go, but he's dallied long enough, and he still has duties to attend to.
Caesar is pretty pissed it took Antony so long to return his summons, and they don't really make amends until Tony agrees to marry his sister Octavia, so yeah…things are heating up.  Rome is currently embroiled in conflict with Pompey whom I think is seeking vengeance for his father.  Pompey also brings up what happened to Julius Caesar, so I don't know if Willy S. is attempting to do a cinematic universe way before the invention of cinema.
I just finished reading where Cleopatra finds out Antony has remarried, and she's so enraged she nearly, literally, kills the messenger.
Title: Tigana
Author: Guy Gavriel Kay
Date Added: February 9, 2016
Date Started: December 8, 2018
Media: Paperback
Progress: 40%
There are many things in this novel that really resonate currently, and it was published in 1990.  The question of what will the breaking point be?  How long will we just "drink, curse, and pay our taxes?"  Some things never change.
Title: The Hero With a Thousand Faces
Author: Joseph Campbell
Date Added: April 24, 2014
Date Started: December 3, 2018
I'm noticing things I highlighted before don't seem so important now lol.  I think my younger self was a bit over-zealous and/or focused on things that seemed pertinent on the surface.  I guess there's something to be said for age and experience if you're willing to pay attention to what you learn.
Title: The Phantom of the Opera
Author: Gaston Leroux
Date Added: November 29, 2018
Date Started: December 2, 2018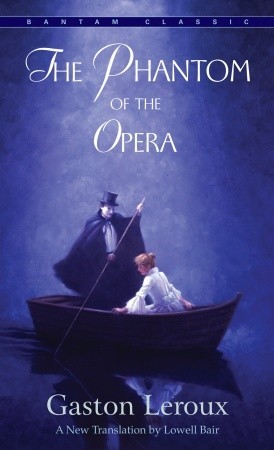 Media: Paperback
Progress: 54%
I feel like this is the most neglected of my books, since I'm constantly skipping it on the days I have scheduled to read.  Raoul is really freaking annoying.  What a man-baby lol.
---
I don't really have anything extra to say, though I'm sure I'll think of something if I keep typing.  I'm in a wedding in April as a bridesmaid, though neither I nor the bride have tried on our dresses yet.  I'm hoping mine fits, but I just haven't had time to throw it on.  Also, I'm kind of waiting for my new bra to arrive as I'm hoping it'll be better than my other ones.  Ugh, now that's a problem that's not necessarily blog appropriate lol.  I have major back problems.  We'll leave it at that :p  I'm also helping my sister-in-law plan her baby shower also in April, so it's a busy first half of the year.  My BFF's wedding shower is in February, and I only have one free weekend then.  I was supposed to get my car inspected this month (January), but I've gone and lapsed on it.  I made an appointment for the 15th so I'm hoping I'll be okay.  I think if you have the appointment scheduled, you generally will be *fingers crossed*
I made two phone calls this week!  I'm such an adult 😀
I knew I'd think of something to say lol.
---
<–The State of the Reader: 1/16/19          The State of the Reader: 2/13/19–>