Goodreads Challenge: 50
Books Finished: 51
Books DNF: 19
Last year I was ambitious and wrote out all the books I read.  This year I'm just going to talk about my top picks and biggest disappointments.
---
Top 10 Books/Series
Surprisingly much more insightful than what it's billed to be.
9. Two Hearts by Peter S. Beagle
You can read this for free through the link.  It's honestly the best I could hope for from a sequel to such an epic work.  It continues the themes without being trite and the resolution is beautiful if bittersweet.
8. Black Hammer by Jeff Lemire
This comic/graphic novel is thoroughly engrossing with its conflicts and character dynamics of people thrown into a hellish, inescapable situation that would seem utterly normal to most of us.
7. Peddling Doomsday by Petra Jacob
This novel perfectly paints the draw of the cult; how easy it is to get sucked into the belief and how hard it is to leave, and I'm not just singing its praises because I'm blogger friends with the author.
6. Saga, Vol. 9 by Brian K. Vaughn & Fiona Staples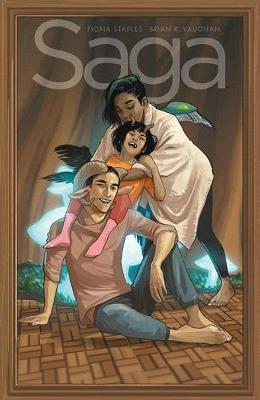 If you've been keeping up with the series, prepare yourself for this one.  Saga's covers can often be deceptive especially when they look happy.  If you haven't read any, this is the best graphic novel I've ever seen to date.
5. A Reaper at the Gates by Sabaa Tahir
I don't know when YA started to deal in real drama and heartache (oh wait…yeah I do: Hunger Games), but Reaper lives up to its title.
4. The Gentleman's Guide to Vice and Virtue by Mackenzi Lee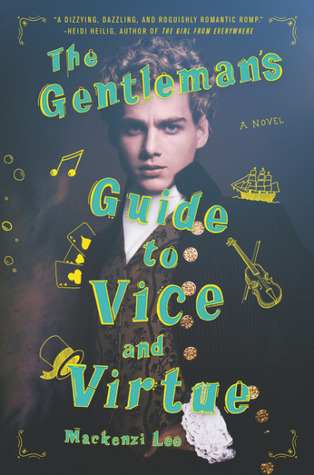 I was expecting a lighthearted romp with this novel.  I was not expecting the dead on and still relevant critiques of racism, sexism, homophobia, and ableism.
3. Angels' Blood by Nalini Singh
This may just be the most perfect book ever created…at least for me.  Sexy, dangerous angels that rule the world, making and controlling vampires. Why would one of the most powerful beings in the world be interested in a mere human?  Isn't that the question posed by most paranormal romance?
2. The First Fifteen Lives of Harry August by Claire North
This book is an absolute masterpiece.  It made me think more than any narrative has in a long time.  It's a slow burn though, so if you're used to more fast paced, it might take you a bit to get into it if you're able to at all.  The implications of Harry's lives are monumental to say the least, and I found myself theorizing and considering what I'd do in the same situation (besides go insane).
1. Muse of Nightmares by Laini Taylor
The middle gets a bit slow, but it's more like the deep breath before a plunge.  The end is both beautifully satisfying, as it leaves the story open for more.
---
Favorite New Read Authors
Jeff Lemire – Author of the Black Hammer series mentioned above.  I'll be checking out more of his work.
Claire North – Author of The First Fifteen Lives of Harry August.  I did check out some of her other stuff, but nothing caught my eye like the fore mentioned.
Nalini Singh – I already have the next book in Guild Hunters in my possession.  I intend to read them until and unless they dip too low in quality aka Laurell K. Hamilton syndrome.
---
Favorite Classic
Dune by Frank Herbert – It has to be my favorite classic since it was the only one I read (nor did I finish any non-fiction/reference books), but I enjoyed it nonetheless.  I'm glad I was able to get through it the second time around.  I can see why it's a classic, and now I get so many more references and memes.  I'll be continuing the series.
---
Biggest Disappointments
Preludes & Nocturnes by Neil Gaiman – I really wanted to like this.  I mean he has a volume illustrated by Yoshitaka Amano, the artist for Final Fantasy for god's sake, but as I pointed out in my review, it was too scattered and a bit presumptuous.
Montress by Marjorie Liu – The artwork is stunning and the writer is a woman of color along with the MC, but it was a struggle to get through the first and second.  Maika Halfwolf just wasn't a character I wanted to follow.
Preacher by Garth Ennis – I was looking forward to reading this for years, and it was a trite and racist mess.  Expect a longer rant when I review.
Fool Moon by Jim Butcher – I've heard Harry only gets even more misogynistic as the series goes on.  I'm going to borrow the next book from the library because I'm done spending money on this series, and if that volume pisses me off, I'm no longer going to waste my time.
Wytches by Scott Snyder – It had a decent premise, but in the end the "wytches" in question weren't all that interesting as antagonists.
Black Butler by Yana Toboso – This is another one I really wish I loved.  It was either published or associated with Square Enix, but every character except for Sebastian and Ciel were annoying as hell.
The Wicked + The Divine by Kieron Gillian – All of you fine people are in for a rant when I get to this one.  Hoo boy.  The art style is gorgeous, the premise is intriguing, but the execution was a gigantic flop.  I cannot WAIT for you to hear my bitching 😉
Dolor and Shadow by Angela B. Chrysler – This caught my eye because "dolor" means "sorrow" in Latin, and well…"Saevam iram et dolorum."  So there's that.  The author was trying to showcase how much mythology knowledge she had even when it didn't fit, and a good third of the middle could easily been cut, but I'll talk about that more when I review.
Gone Girl by Gillian Flynn – omfg I want other people to read this so they can be as pissed off as I am.  I'm going to spoil the novel when I review it, but I'll give ample warning.
---
Is that it?  Yep, that's it.  What were your favorites and disappointments in 2018?