<–The State of the Reader: 1/30/19          The State of the Reader: 2/27/19–>
A weekly post updated every other Wednesday detailing my current reading projects and what new titles I've added to my to-read list.  Title links go to Goodreads, and if you have an account there feel free to friend me!  I'd love to see what you're reading and/or planning to read.
---
Books Obtained: 0
---
Books Finished: 0
---
Currently Reading
Title: Antony and Cleopatra
Author: William Shakespeare
Date Added: January 16, 2019
Date Started: January 17, 2019
Media: eBook/Kindle
Progress: Act 5 Scene V
I was hoping to finish this today, but if wishes were fishes, there'd be more in the sea. Maybe tomorrow.  Then I can look up notes on it to see how good my interpretation of Shakespearean English is.  I actually read this at lunch to take a brain break :p
Title: Tigana
Author: Guy Gavriel Kay
Date Added: February 9, 2016
Date Started: December 8, 2018
Media: Paperback
Progress: 41%
This novel is sorely neglected and I feel awful about it, because it's poised to be my favorite book of the year.  I've have it scheduled to read today, but since I didn't get home until eight; I'm not doing this until half past nine; and I haven't even eaten dinner yet, it's not a high probability that's going to happen.
Title: The Hero With a Thousand Faces
Author: Joseph Campbell
Date Added: April 24, 2014
Date Started: December 3, 2018
Any progress on this is good progress since I haven't to take pretty extensive notes.  I'm on the chapter "Refusal of the Call," which is always a potential option in the journey of the hero, though he chooses it to his rue.
Title: The Phantom of the Opera
Author: Gaston Leroux
Date Added: November 29, 2018
Date Started: December 2, 2018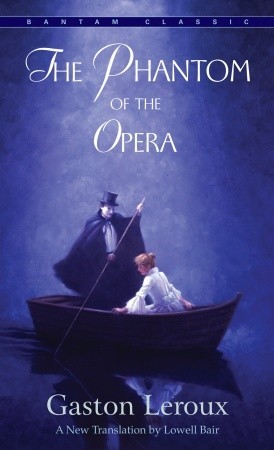 Media: Paperback
Progress: 70%
At least I'm making progress on this mess.  There most interesting part was definitely when Christine was describing Erik's (first) abduction of her, and what she did in order to survive and escape.  What's sad about that part was it's still valid advice today in order to placate and eventually escape from an abductor.
---
With nothing bought and nothing finished, this was an easy status to update.  Thank goodness because I didn't get home until 8:30.  I had to make an impromptu doctor's appointment because TSN wasn't able to breathe, and that's no fun.  Every time the weather/temperature changes, my lungs freak the fuck out, and since I live in the state of Ficklevania, they've been freaking out a lot.  The doctor or rather nurse practitioner prescribed a nebulizer for me, which meant I had to drive another 20 minutes (the doctor is 30-45 minutes away) after work to pick up the machine then go to my regular pharmacy to get the medicine for it.  I just finished using it…once I realized I had the mouthpiece upside down *smacks forehead*  I should've had one of these guys years ago, so I'm happy I have one now.
I wish I were more caught up in my reading with at least one book finished within the two weeks, but since I've lowered my challenge number to 20, it's not really that big of a deal.  Alright, time for dinner.  Let me know what book your most looking forward to reading this year.
---
<–The State of the Reader: 1/30/19          The State of the Reader: 2/27/19–>