<–The State of the Reader: 2/13/19         The State of the Reader: 3/13/19–>
A weekly post updated every other Wednesday detailing my current reading projects and what new titles I've added to my to-read list.  Title links go to Goodreads, and if you have an account there feel free to friend me!  I'd love to see what you're reading and/or planning to read.
---
Books Obtained: 0
---
Books Finished: 1
Title: Antony and Cleopatra
Author: William Shakespeare
Date Added: January 16, 2019
Date Started: January 17, 2019
Date Finished: February 18, 2019
Media: eBook/Kindle
I enjoyed this much better than All's Well That Ends Well and did absorb most of the major points of it.  I checked Wikipedia afterwards for a summary/synopsis, and while I missed a few things (e.g. Lepidus being one of the triumvirates along with Caesar and Antony, and Caesar imprisoning him after they betray Pompey), I did pick up the potential that Cleopatra might have betrayed Antony, though that seems to be more of an implication as opposed to a matter of fact.  It could go either way, and I wonder if Shakes meant to do that.  This is considered one of his problem plays.  I do like that it's a direct sequel to Julius Caesar, which I plan to reread in this Bard project of mine.
---
Currently Reading
Title: Leviathan Wakes
Series Title: The Expanse
Author: James S. A. Corey
Date Added: June 6, 2018
Date Started: February 19, 2019
Media: eBook/Kindle
Progress: 12%
This is grimdark in space…kind of.  It's more our current hellscape timeline in space as in authority rules, money talks, and whether or not you answer a distress calls all depends on what type of day you're having.  Holden, the XO of the Canterbury, is a decent type in a galaxy that will rip them apart.  Miller, the detective, seems an okay sort insofar as he has reservations about kidnapping the MC of the prologue (if she's even still alive) as part of his job.  There really aren't any likable characters, but circumstances keep things interesting.  What the fuck happened in the prologue?  Why was the Scopuli targeted?  Why do these supposed pirates want to sow more dissension between the planets?  (Yeah, there's intergalactic racism based on what planet you were born on.  It never goes away; it just migrates.) These are the questions that keep me reading.
Title: Tigana
Author: Guy Gavriel Kay
Date Added: February 9, 2016
Date Started: December 8, 2018
Media: Paperback
Progress: 47%
I purposely made time to read more of this book tonight.  I'm never disappointed when I do, though I am a bit confused about what happened.  This is the type of novel that shows you something, and you know it has momentous significance, but the breadth of it might not be revealed for chapters to come.
Title: The Hero With a Thousand Faces
Author: Joseph Campbell
Date Added: April 24, 2014
Date Started: December 3, 2018
I've been reading a chapter a session the past two weeks, which isn't difficult since the chapters aren't that long.  I think it takes me about an hour give or take with notes.  I should really time myself at some point.
Title: The Phantom of the Opera
Author: Gaston Leroux
Date Added: November 29, 2018
Date Started: December 2, 2018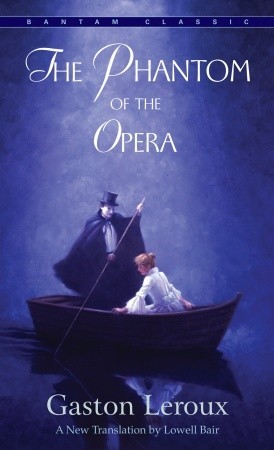 Media: Paperback
Progress: 72%
I seriously just want to slap my forehead constantly while reading this.  I know novels of this type were meant to be over-dramatic, but my god…
---
I need to figure out when I'll have time to write a TV show review.  I binge watched The Umbrella Academy over the past two days while I was sick at home, and I have a lot of thoughts.  Like Leviathan Wakes I had problems getting into the characters, but the majority of them come off as more likable than the novel's.  The show is engaging but almost laughably predictable.  That's not necessarily a bad thing, but there's not a lot of depth to it, as in there's no deep profound message about environmentalism, the human condition, our society/culture, etc. that might make me more forgiving about the over used tropes.  It's not necessarily a bad thing that the story doesn't have some profound message, nor does that make it a bad show.  There were definitely some surprises, though most of them didn't have much lasting effect.  Look at me reviewing it right here hehe.  I'll have to look this back up when I write the actual analysis.
Have you watched anything interesting in the past few weeks?  Do you have any recommendations?  I'm still trying to figure out how to watch Venture Bros. without exposing my PC to four billion viruses, since it's on neither Netflix nor Hulu.  Someone gave me a site I could use, but I'm pretty sure I got drunk and forgot.
Until next time, dear followers!
---
<–The State of the Reader: 2/13/19         The State of the Reader: 3/13/19–>