Title: The Faust Act
Series Title: The Wicked + The Divine
Author: Kieron Gillen
Illustrators: Jamie McKelvie, Matt Wilson & Clayton Cowles
Date Added: June 6, 2017
Date Started: August 2, 2018
Date Finished: August 7, 2018
Reading Duration: 5 days
Genre: Graphic Novel/Comic, Fantasy, Mythology
Pages: 176
Publication Date: November 12, 2014
Publisher: Image Comics
Media: Hardback (Library)
---
Every ninety years, twelve gods incarnate as humans. They are loved. They are hated. In two years, they are dead. The team behind critical tongue-attractors like Young Avengers and PHONOGRAM reunite to create a world where gods are the ultimate pop stars and pop stars are the ultimate gods. But remember: just because you're immortal, doesn't mean you're going to live forever. 
---
The story is fast paced and glamorous in this "gods incarnated into the bodies of youths" metaphor of celebrity culture.  It starts off with Lucifer
standing trial for murder, and the trial itself ending in an unexpected way (yes, even more unexpected than Phoenix Wright, though there is an explosion of sorts…).   It's clever how once again Lucifer is being thrown under the bus for something he (in shtis case she) didn't do (as in some interpretations/translations "Lucifer" was erroneously conflated with Satan, but this is something I need to do more research on).
The majority of the characters in this are POC including the main Laura who desperately wants into this world.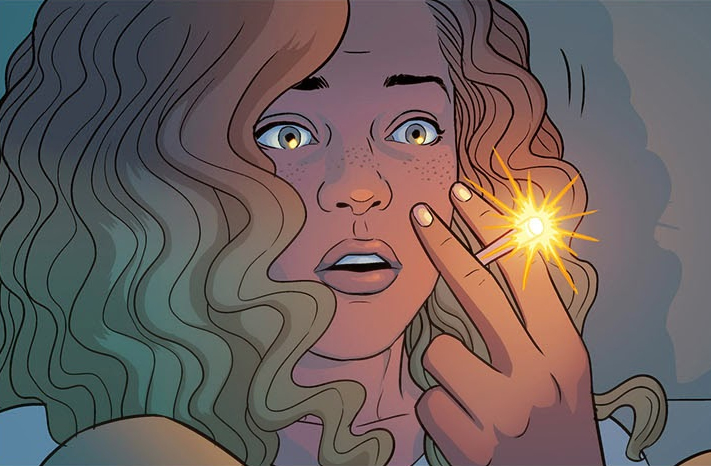 The cycle, or at least who's chosen, seems perpetuated by Ananke who appears as an old woman.  She infuses people (usually teenagers from what I can tell) with the incarnation per what Luci explains, and this is the main reason Laura was at the Amaterasu concert.  Everyone wants to be a god, but no one wants to deal with the consequences.
The artwork in this graphic novel is absolutely gorgeous; McKelvie, Wilson, and Cowles definitely deserve all the props, but the story is vapid AF.  Before you castigate me and insist "That's the point!" let me elaborate.  My assumption is that later volumes delve deeper into the reasons for the recurrence, but if this first one is meant as an introduction, it does a poor job at showing them as anything more than one-dimensional caricatures.