<–The State of the Writer: 3/8/20         The State of the Writer: 4/5/20–>
A post updated every other Sunday discussing my current writing projects and any completed the prior two weeks.
---
Finished Projects: 0
---
Project: Story
Title: The Broken Rose
Genre: Paranormal Romance
Type: Fanfiction
Fandom: Final Fantasy VII
Length: Novel
Current Word Count: 252,067
Prior Word Count: 252,222
Word Difference: -155
Status: Editing
Progress: Second edit of Chapter 22
There needs to be a third edit, but the second is easier.  I've mostly smoothed out the, er, more awkward parts I'd say?  At the very least this second editing is taking less time.  I'm one session away from finishing it up.  If the third goes well, I should be posting it within the week.
Project: Story Audio Recording
Title: Northern Lights
Genre: Paranormal Romance
Type: Fanfiction
Length: Novel
Fandom: Final Fantasy VII
Status: Editing
Progress: Adding sound effects to Chapter 1
So I came to the decision that I'm going to use whatever music I fucking want for one version and then go the safe route with another.  I have no clue why I'm like this; I'm just like this.  There's music I had in my head for certain parts, and I just want to hear it there.  I'm wary about posting such anywhere because I can't afford to get sued, and I have no idea what fair use entails (need to research that), but example, there's a part in this first chapter where I was hearing "Empty Chairs at Empty Tables" from Les Miserable, but I wanted an instrumental/piano version.  I found one and would love to use it, though I'm considering learning to play it myself.  I looked up the music and it's not too complicated (way easier than Aerith's Theme I taught myself), so that's an option.  Granted, this isn't quite what I'm talking about.  It's more stuff you'd generally have to pay royalties for, but then again you hear that kind of music in AMVs all the time, and I used it in my slideshows.  Just more proof that everything is arbitrary.
---
In Progress
Book Review: The Wicked + The Divine by Kieron Gillen et al – I was going to split this into Review and Analysis, but I don't think I have to.  I made the latter section, but realized the spoiler could just be contained in tags.  I need to do some refining and proofreading before I post.
Game Review: Final Fantasy VI – Still plugging away at the story summary.  I currently have the crew at Jidoor before Zozo.
---
I haven't left my apartment since Monday the 8th.  My company started a working from home test that was supposed to only last until this upcoming Wednesday, buuuut I'm pretty sure I'm not going back to the office any time soon.  My husband was laid off last Monday since he does accounting for a school bus company.  Yeaaaaaah, that's not going to be necessary for a bit.  He's been looking for a new job and has had a few video interviews, but I'm not overly optimistic.  Hell, I don't even know if he's going to get anything for unemployment by the end of the week. I have a contingency plan that'll last through April, but after that *shrug*  I'm definitely not paying my student loan and saving a ton on gas by not going anywhere, but I'm really hoping I don't lose my job since I'll die without health insurance *double shrug*  Eh, what can you do?  As long as I have some Xanax and wine I'll be okay.  My BFF also had her hours cut since she does graphic design for a gaming/entertainment company, so she's of course worried.  We were both planning on buying houses this year LOLOL.  All I can do is laugh.  It's almost like unchecked hustle culture where people are expendable in the pursuit of the almighty dollar doesn't work; we're much more connected than the whole "rugged individualism" that permeates my country's zeitgeist, and taking care of people should take precedence.  "You can't build a world on the backs of the bruised and expect it to stand firm."  I'm being SUPER narcissistic right now in quoting myself, but why the hell not?
I hope all of you who have no choice but to be publicly exposed are…I don't even know what to say.  Keeping safe?  Like if your jobs are forcing you to do it, fuck them, but if your position is vital, I hope you have all the protections.  I won't even leave my house for a doctor's appointment.  Your girl is a fat asthmatic with a bad back who'd probably die if she got it, but TSN has been practicing social distancing before it was cool, so as long as I can work from home and my hubs doesn't bring it back with him from outside, I'm sure I'll be fine.
Also,
And finally, because I'm a nice person,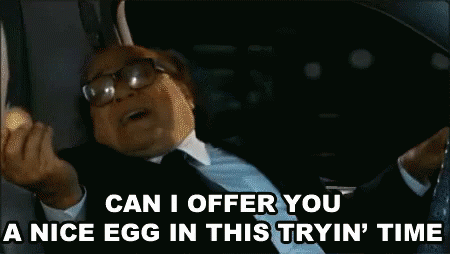 If we have nothing else, we at least have memes, and humans have never taken anything completely seriously.
---
<–The State of the Writer: 3/8/20         The State of the Writer: 4/5/20–>