<–The State of the Reader: 3/1/17          The State of the Reader: 3/15/17–>
A weekly post updated every Wednesday detailing my current reading projects and where I am with them in addition to what new titles I've added to my to-read list.  Title links go to Goodreads to make it easier for interested parties to add any books that might strike their fancy.  I attempt to use the covers for the edition I'm reading, and I'll mention if this is not the case.  If you have a Goodreads account feel free to friend me!  I'd love to see what you're reading and/or planning to read.
---
Books Finished This Week: 2
Title: The Dream Thieves
Series Title: The Raven Cycle
Author: Maggie Stiefvater
Date Added: January 23, 2017
Date Started: January 26, 2017
Date Finished: March 4, 2017
Reading Duration: 37 days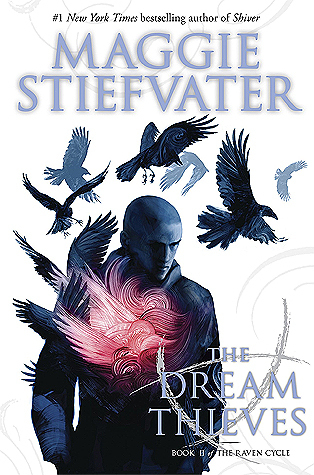 The second book in the series was a bit slower and just a tad weaker than the first.  This is not to say there weren't parts that sent a chill down my spine and a thrill through my heart, but Ronan is a tough character to follow.  He does reckless things that are both hard to explain and difficult to understand even knowing his situation.  You feel bad for him, but then you grow exasperated with him due to his acerbic nature and cutting attitude.  He's of "beg for forgiveness instead of ask for permission" crowd, acts on impulse, and doesn't seem to care about the fallout.
I'm going to try to review this by next weekend.  That will give it time to marinate in my mind so I can better express my thoughts.
Title: "Beta Reading"
Author: High School Friend/Fellow Author
Date Added: N/A
Date Started: February 14, 2017
Date Finished: March 4, 2017
Reading Duration: 18 days
Media: PDF/Kindle
I finished my friend's wonderful novel and am now left with an issue.  I have nothing bad to say about it.  You're probably thinking this is a good thing, but as I said last week, writers thrive on constructive criticism and I don't have any to give.  Besides some minor typos, there's nothing I'd change about the narrative.  The only thing I can possibly question is his audience.  I believe this is supposed to be a YA, but there's some language and one particularly graphic scene.  However, The Dream Thieves is also apparently YA and it has strong language, too.  Regardless what I'm going to say, I'm happy and honored I was able to read this, and I can't wait to see it on bookshelves.
Update: I sent him my feedback through FB messenger, and he was genuinely delighted.  This is a polished edition of the story, so he was quite happy that I didn't find any major issues.  He also sent me the companion book to this one, which I'm excited to read so I can get the other side of the story.
---
Books Purchased This Week: 2

Title: Blue Lily, Lily Blue
Series Title: The Raven Cycle
Author: Maggie Stiefvater
Date Added: March 4, 2017
Date Purchased: March 4, 2017
Media: Kindle
Price: $5.99
Retailer: Amazon
Title: The Lies of Locke Lamora
Series Title: Gentlemen Bastards
Author: Scott Lynch
Date Added: October 11, 2012
Date Purchased: March 7, 2017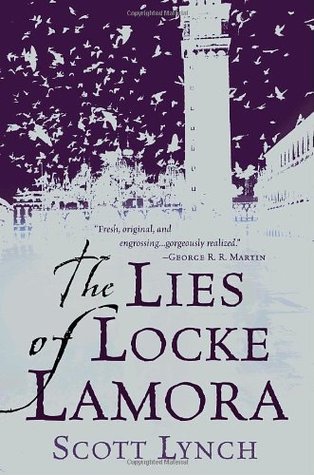 Media: Kindle
Price: $1.99
Retailer: Amazon
I was going through my downloaded-prior bookshelf on GR just to see if anything was on Amazon (Kindle) for cheap.  I almost bought another book that was $2.99, but decided to keep my limit at under $2.00.  There are still some situations where a physical copy is less expensive than Kindle.  In this case though, the price was more than right for a book that's also on my really-want-to-read shelf.
---
Books Currently Reading: 5

Title: Blue Lily, Lily Blue
Series Title: The Raven Cycle
Author: Maggie Stiefvater
Date Added: March 4, 2017
Date Started: March 5, 2017
In karaoke there's a concept called "sing and bring."  It entails bringing up the next song you want to sing when you're name is called to sing the last song you put in.  For some reason, I'm thinking about that as I read and add these books.  In all honesty, I consider this series just one long story.  As I finish the last, I immediately buy and add the next.  I'm hoping this installment delves into Blue's origins.  We were given drips and drops about it in the first; absolutely no mention of it in the second (since that concerned Ronan), so I'm hoping we discover more about her elusive father with the ridiculous nickname.  I have my own theories about him, but we'll see if I'm right when I read it.
Title: The Quantum Door
Author: Jonathon Ballagh
Illustrator: Ben J. Adams
Date Added: February 18, 2016
Date Started: March 3, 2017
This novel reminds me great of Strange Things.  Power outages, parallel universes, strange girls.  The main characters are two brothers, and I've found that sometimes if characters are too similar, it can be difficult to keep track, but Brady is the elder and more cautious, while Felix is the adventurous child prodigy.  I'm excited to see where this goes.  The tension just keeps tightening.
Title: Prospero Lost
Series Title: Prospero's Daughter
Author: L. Jagi Lamplighter
Date Added: June 19, 2016
Date Started: February 11, 2017
I'm kind of in a stride with this book.  It doesn't overly excite me to read it, but I don't dread when it's in the rotation, and it's kind of a "Hm, I wonder what the Prospero siblings are up to now."  It's like catching up with friends who have hobbies that aren't your interest, but you care about them, because they're their hobbies.  Like The Quantum Door, the author manages to differentiate the siblings so that I don't have to constantly remind myself who's who, though so far there have only been two others introduced besides the main character Miranda.
Title: The Illustrated A Brief History of Time/The Universe in a Nutshell
Author: Stephen Hawking
Date Added: June 25, 2016
Date Started: January 2, 2016
Media: Paperback
Progress: 34%
I have a bit of a confession…I'm starting to lose interest in this book.  I know. I know.  I've been talking about studying astrophysics and quantum physics, so how dare I falter a book about the same.  It's certainly not a slight on Professor Hawking's writing, but he has such a brilliant mind that I have to concentrate fully in order to absorb all of the information, and for many reasons, my mind tends to wander, and concentration can be a difficult beast to catch.  I do wonder how I would do with this topic in a classroom setting.  I'm going to keep reading especially since I'm almost finished the first part.  What I may do is read that, which I'd count as one book (this version just happens to have both), and then I'd read another reference book in the interim (The Hyrule Historia.  I already know) before returning to read The Universe in a Nutshell.  I'd figure out the logistics on Goodreads later.
Title: The Mabinogion Tetralogy
Author: Evangeline Walton
Date Added: August 24, 2014
Date Started: July 31, 2016
Medium: Paperback
Progress: 67%
So the king found out what his asshole nephews did, but it was at the end of a chapter.  The poor handmaiden told him, and he not only believed her, but made her his own queen and promised vengeance.  I cannot wait to read the next chapter.  Oh, you have no idea how much I love righteous vengeance (if you're reading myThe Broken Rose fanfiction, you'll find out in a later chapter.  Shit.  Gets.  Real).
---
Fanfictions Finished: 0

Fanfictions Currently Reading: 1
Title: I'm the Darkness, You're the Starlight
Author: runicmagitek
Fandom: FFVI
Pairing: Celes Chere/Setzer Gabbiani
No chapter updates for a while, per her last reply to my comment.  She has to take care of some personal shenanigans (which I totally understand) so like I do to so many of my readers, I shall have to wait.
Fanfictions Added to TBR List: 0
---
Books Added to Goodreads TBR List This Week: 4

Title: Traitor's Blade
Series Title: Greatcoats
Author: Sebastian de Castell
Date Added: March 5, 2017
There's a kick ass review of this over on Cupcakes and Machetes' blog, and it was so, er, explosive (you'll understand how dirty that joke was if you go to her blog.  I'm a mess…hahaha *gross*) I had to add this book.  Plus the series is called Greatcoats.  I love greatcoats aka long coats aka badass longcoats.
Title: Descendants
Series Title: The Arete Series
Author: Rae Else
Date Added: March 5, 2017
I had the honor of being asked by another author to beta read their work, this one in the form of an eArc.  I downloaded it on my Kindle this evening and am going to try to get to it before release date April 12.  Either way, I'm going to purchase to support the author whose blog (and the post about the book in question) can be found here!
Title: Gathering Blue
Series Title: The Giver
Author: Lois Lowry
Date Added: March 7. 2017
I had no idea The Giver had a sequel and was a series (I think there are least four books in it).  I read the series opener a long time ago back in high school, and I have not seen the movie.  I liked the book's ending.  It was ambiguous, bittersweet, and made sense for the type of novel it was.  I heard the movie went a different direction, because people tend to like happy endings.  Since I haven't seen it, I can't really judge whether or not this was a good move.
I was going through all of the books I've marked as read on Goodreads, and it's less than 400!  I've read many more books than that, but memory is not always kind to the Shameful Narcissist, so while I'm pretty sure I've read over a thousand books, fucked if I can remember what they are.  I can envision my high school's library, and I'm trying to imagine myself walking through the sections I used to haunt in an attempt to recall the books I found and read there.  I'm trying the same thing with my old local library and bookstore.  What I could do is look at the books I've read on Amazon and see what the recommendations are in an attempt to jog my memory.  This will have to be another organizational project though.
Either way, I added a bunch of Ms. Lowry's Anastasia series, which I read ad nauseum as a teenager (if you haven't read her Autumn Street do it.  It's a book about racism as seen through the eyes of a child), and that's when I noticed this unknown series for a book I read years ago.
Title: Hunted
Author: Meagan Spooner
Date Added: March 8, 2017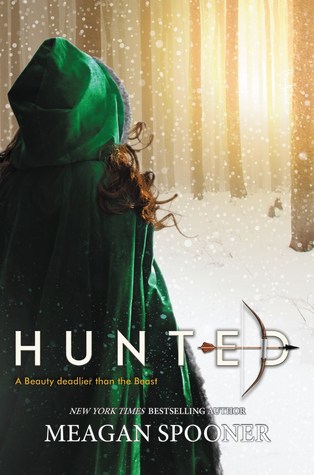 A Beauty and the Beast retelling that comes with high acclaim, or at least one of my Goodreads' friends gave it high marks.  It's average rating is above 4.00, which means quite a few people found it worthy.  I love fairy tale retellings, and I use fairy tales a lot in my own works both fanfiction and original, so finding one is almost always an insta-add.  I like to see how other authors shuffle the well known narrative and tropes around, and I'm obviously not above doing a bit of shuffling myself.
---
Total Books on Goodreads TBR List: 443
Change from Last Week: +3

---
A Sample Question
So I download samples to my Kindle and decide what to keep, what to put on my really-want-to-read shelf, and what to put in my passed-based-on-sample shelf.  I don't include these because I generally don't talk about books I've removed, and anything I put on an additional shelf is already on my TBR list.  I could start including what samples I've downloaded if you'd be interested in that.  Since I'd be talking about what either attracts me to or repels me from a book, it could make for some interesting conversation.  Let me know your thoughts down below!
---
What are you currently reading and/or what's on your radar to read next?  What would you recommend based on my current and recently added?  As always I look forward to your comments and suggestions!
<–The State of the Reader: 3/1/17          The State of the Reader: 3/15/17–>
Save
Save
Save
Save
Save
Save
Save