Title: Khalarea the Fallen
Series Title: Tales of Yagath
Author: Claus Augustus Corbett
Date Added: April 3, 2016
Date Started: September 19, 2016
Date Finished: October 2, 2016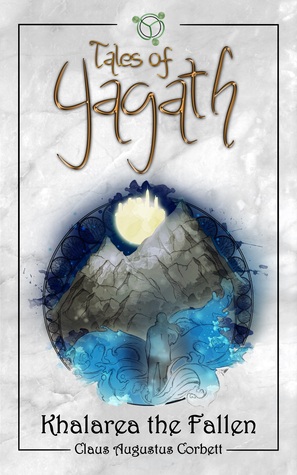 Media: Kindle
Publication Date: September 8, 2015
Pages: 30
Years ago, a name was heard inside of long-forgotten ruins, and since then Astir Runia, a Calanthoren bard, has been traveling the known world searching for a truth buried by thousands of years of human history. What shadows does the name Khalarea cast now on her world? Even though she can't answer that, Astir is finally ready to share the legend of Khalarea the Fallen with her friend, Lokart. As she makes her way to their meeting, she wonders how he'll react to the legend, and what connection this legend has to the boy they rescued in those same ruins. Still, what weights more on her mind is not the legend in itself, but rather other texts she found during her journey, and which may point to a truth that might be even darker than they expected.
---
I wish I could recall who recommended this book to me.  It's someone I met online, and the recommendation came about as we were discussing content warnings and whatnot.  She (I believe the person is female) said that her author friend took the chance to make less sales by putting a content warning on one of his books.  I was impressed by this and sought him out, buying the first book in the series for my efforts.  The warning doesn't occur until the second book The Scarlet Mantle, which I didn't finish, but not due to the warning.  Rather it suffers from narrative structure issues such as not establishing an integral relationship prior so when the characters met in the story, it resembled a poorly executed deus ex machina and far too convenient for the plot.
Khalarea the Fallen was…interesting.  It's a meta story, a tale within a tale, following the lay of Astir Runia as she relates information discovered about Khalarea to her companion Lockart.  As I read ( and it didn't take a long time since it's only a 30 page short) I started getting that all too familiar tingle of familiarity that comes when a story shares motofs with Final Fantasy VII.  Usually, these are things that are just common fantasy tropes that, while I can tie a thread between them, are hardly unique to FFVII (or the story in question) and could therefore only serve as two examples of the same paradigm.  However, when there are a multitude of similarities, I can't help but take notice and note.