Title: The Metamorphosis and Other Stories
Author: Franz Kafka
Date Added: June 12, 2017
Date Started: September 14, 2017
Date Finished: December 1, 2017
Reading Duration: 78 days
Genre: Fiction, Classical Literature, Satire, Short Story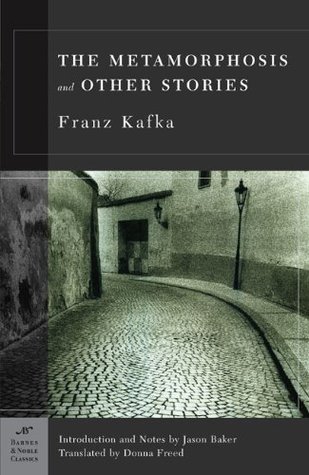 Pages: 224
Publisher: Barnes and Noble Classics
Publication Date: July 1, 2003 (first published 1915)
Media: Paperback
---
Virtually unknown during his lifetime, Franz Kafka is now one of the world's most widely read and discussed authors. His nightmarish novels and short stories have come to symbolize modern man's anxiety and alienation in a bizarre, hostile, and dehumanized world. This vision is most fully realized in Kafka's masterpiece, "The Metamorphosis," a story that is both harrowing and amusing, and a landmark of modern literature. 
Bringing together some of Kafka's finest work, this collection demonstrates the richness and variety of the author's artistry. "The Judgment," which Kafka considered to be his decisive breakthrough, and "The Stoker," which became the first chapter of his novel Amerika, are here included. These two, along with "The Metamorphosis," form a suite of stories Kafka referred to as "The Sons," and they collectively present a devastating portrait of the modern family.
Also included are "In the Penal Colony," a story of a torture machine and its operators and victims, and "A Hunger Artist," about the absurdity of an artist trying to communicate with a misunderstanding public. Kafka's lucid, succinct writing chronicles the labyrinthine complexities, the futility-laden horror, and the stifling oppressiveness that permeate his vision of modern life.
---
This is going to be more of an analysis than a review due to the classic nature of the work.  Spoilers will not be marked.
Most writers write about themselves.  It is both an inherently selfish and selfless act.  To speak too much of oneself is narcissistic, but to share that self with the world in the hopes someone might understand upon reflection requires a vulnerability most narcissists cannot bear.
Franz Kafka's works were greatly influenced by his relationship with his father, Hermann Kafka, who is described as "authoritative and demanding."  We're introduced to this paradigm in "The Metamorphosis," and it manifests even more in "The Judgment."
Kafka's writing is brilliant in its absurdity.  While ridiculous and surreal things happen to his characters, the author's message is far from it.  He uses the absurd to speak of the profound beginning with "The Metamorphosis," where the main character Gregor awakens one morning to discover he's been transformed into a gigantic bug.  It's interesting to note that Kafka never wanted any depictions of the creature, because its appearance didn't matter.  It was a "gigantic vermin" that poor Gregor had the ill luck to now be.  He's confined to his room and often fed by pushing sustenance beneath the door.  The sister or the mother would sometimes and warily venture in to clean, and Gregor usually hid himself to not terrify them.  He is unable to speak, no longer possessing a human mouth, though his mental faculties remained the same.