What's this?
I apologize for nothing.  It's fall.  It's almost October.  They're selling candy corn and mellowcreme pumpkins.  That pretty much means it's spooky time.
The sad part is this post isn't even about Halloween.  It's about listing things in threes and I yoinked it from Cupcakes and Machetes.  So let's get into it without any further distractions.
---
3 READ ONCE & LOVED AUTHORS: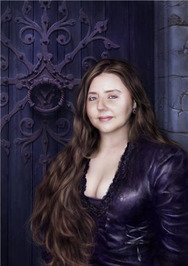 Grace Draven is the author of the Wraith Kings series, which is this fantastic paranormal romance.  It was my top series last year, and I can't wait for the third book to come out.  I actually just got an email from Goodreads and Amazon about her newest release Phoenix Unbound that I downloaded a sample of.  As my newest favorite author, I can't wait to see what else she puts out.