Title: All's Well That End's Well
Author: William Shakespeare
Date Added: September 15, 2017
Date Started: January 26, 2018
Date DNF: March 3, 2018
Genre: Play, Classic, Drama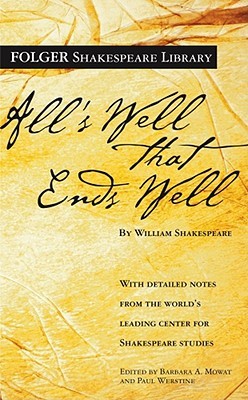 Pages: 336
Publication Date: 1602
Publisher: Latus ePublishing
Media: eBook/Kindle
---
Helena, a ward of the Countess of Rousillion, falls in love with the Countess's son, Bertram. Daughter of a famous doctor, and a skilled physician in her own right, Helena cures the King of France-who feared he was dying-and he grants her Bertram's hand as a reward. Bertram, however, offended by the inequality of the marriage, sets off for war, swearing he will not live with his wife until she can present him with a son, and with his own ring-two tasks which he believes impossible. However with the aid of a bed trick, Helena fulfils his tasks, Bertram realises the error of his ways, and they are reconciled.
---
This was the first play I finished in my goal to read/reread all of the Bard's plays.  I didn't finish it because it annoyed me, but apparently I also didn't review it either, which is odd, since I usually still review literature I DNF.
Bertram, the son of a countess, is a snobbish ass and Helena, the low-born ward of the same countess, could do so much better.  He refuses her marriage offer even after the king of France says he'll fix any title issues Bertram has with the union, which seems to be the only problem: he doesn't want to marry below his station.  Helena has fulfilled her promise to the French monarch in healing him, and the king has the power to raise her beyond her "low breeding as a physician's daughter," which is (ironically for that judgment) the reason she was able to cure him in the first place!  Granted, at this point in history, doctors weren't looked up in high regard, so this assessment wasn't inaccurate.  If this is Bertram's only reason for not wishing to wed Helena, it's a poor one at that.  Obviously, no one should be compelled to marry against their will, regardless the cause, and that's exactly what the king forces Bertram to do.  While he weds her, he doesn't bed her, instead sending his unwanted bride back to his estate and informing his mother how much he hates her.
I became bored with the story at this point and decided to DNF it, but thanks to the internet I know what else happens, and yes, it is twisted.