<–The State of the Reader: 9/14/16          The State of the Reader: 9/28/16–.
A weekly post updated every Wednesday detailing my current reading projects and where I am with them in addition to what new titles I've added to my to-read list.  Title links go to Goodreads to make it easier for interested parties to add any books that might strike their fancy.  I attempt to use the covers for the edition I'm reading, and I'll mention if this is not the case.  If you have a Goodreads account feel free to friend me!  I'd love to see what you're reading and/or planning to read.
---
Books Finished This Week: 1

Title: Sigil
Author: Aidan J. Reid
Date Added: June 9, 2016
Date Started: August 23, 2016
Date Finished: September 16, 2016
This is tough.  As you all know I usually review books on Goodreads and Amazon after I finish them. I want to do that with this one, but I had some major issues with it, and this is an indie author who could be really hurt by a bad review.  I know how tough the publishing world is since, well, I'm not even in it due to failure/rejection, and I don't want to bring anyone else down, BUT I always want to give honest reviews.  If I can figure out a way to do this tactfully, I'll definitely write one up.
For now I'll tell you that I gave this book 3 stars on Goodreads.  I think it's a great portrayal of how small towns can hide huge secrets.  The main character is very likeable and admirable, and the book is $0.99 and fast paced.
---
Books Currently Reading: 4
Change from Last Week: +1

Title: The Mabinogion Tetralogy
Author: Evangeline Walton
Date Added: August 24, 2014
Date Started: July 31, 2016
Medium: Paperback
Progress: 16%
I am well entrenched on the second branch of this book.  It's a little bit more complex what with matrilineal kingship.  The first book was about the New Tribes that were more patriarchal whereas the Old Tribes follow a matriarchal line. There is a character named Bran though, which is something Martin borrowed from in his Song saga so I'm excited.
Title: Miss Peregrine's Home for Peculiar Children
Series Title: Miss Peregrine's Peculiar Children
Author: Ransom Riggs
Date Added: May 11, 2016
Date Started: August 24, 2016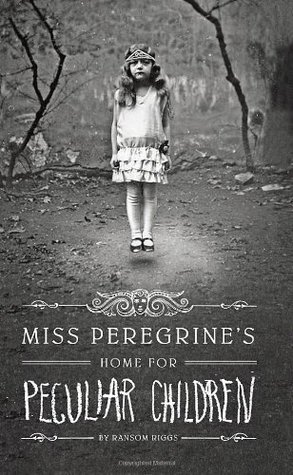 Medium: Paperback
Progress: 81%
I'm really hoping this book doesn't let me down with the ending.  I can see the direction it may be leading me into, and I'm hoping the author is clever enough to pull a bait and switch.  So far Mr. Riggs hasn't let me down.
Title: The World of Ice and Fire: The Untold History of Westeros and the Game of Thrones
Author: George R R Martin
Date Added: January 7, 2015
Date Started: February 8, 2015
Though this book is a new addition to this week, I was reading it before.  I took a hiatus, but picked it back up when I (finally) finished my last reference The Mystical Qabalah.  This compendium is the history of Westeros from GRRM's A Song of Ice and Fire, my favorite (written) fantasy series and my second favorite story of all time.  If you're a Song fan and you want to know more about the world of Westeros (and Essos and Sothoryos…collectively called Planetos in fan head canons), I highly recommend it.
I'm currently on the section about the Tyrells and before that Old Town, which was a bit chilling as the maester "writing" it mentions that ubiquitous black stone found all over the world.  There's something very eerie about that black stone not the least of which is its connections with Lovecraftian horror.
TWOIAF only has around 330 pages, but it's a large book nonetheless.
Title: Khalarea the Fallen
Series Title: Tales of Yagath
Author: Claus Augustus Corbett
Date Added: April 3, 2016
Date Started: September 19, 2016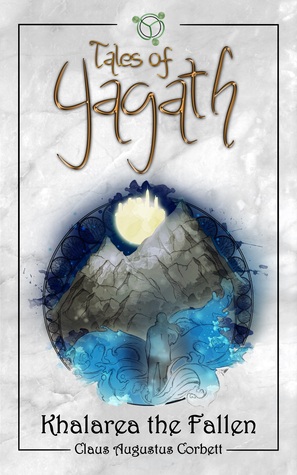 Media: Kindle
Progress: 12%
I'm trying to remember who recommended this book to me, and I'm failing miserably.  It's not on my "Blogger Recommendations" shelf, but someone I was talking to mentioned this author because they were willing to risk less sales in order to put a content warning on their work.  Dammit…I think it was someone on WP, but this was before I kept track of who recommended what.
Another draw was how the "Tales of Yagath" sound a bit Lovecraftian to me, too.  Yagath reminds me of shoggoth, but that could also just because I'm weird.  They both end with -th.  I really don't know.  There is a trope about that though under Names to Run Away From (yes "Sephiroth" is there.  I can't talk about sinister names that end in -th without mentioning my favorite fallen angel), and Lovecraft, er, loved using it.
This story is about a wandering bard looking for to recount what she knows of the Legend of Khalarea to her friend, but there may be even darker truths to reveal.  This is another book written by an indie author.  I'm trying to keep up my reading with one of those on my Kindle as I go along.  So far it's a little muddled with tons of character and place names, but I'm hoping things will fall into place soon.  It's not very long so I don't envision me taking much more than a week to finish.
---
Fanfictions Finished: 0

In Progress Fanfictions Read: 0

Fanfictions Currently Reading: 0

Fanfictions Added to TBR List: 1

Title: Children of Light and Darkness
Author: Chibi Neko
Fandom: Vampire Hunter D
Pairing: N/A
Holy shit.  I'm reading a fanfiction that's not only not Aeriseph but also not even Final Fantasy VII.  What the hell is going on?  Well first off I added this today after checking my email.  Chibi Neko, the author, had added my Northern Lights to their Favorite Stories list.  Whenever that occurs I always check out the person's profile to see if they write my fandom and to see what other stories/authors they have as their favorite so I can potentially add more stories to my TBR list.  I didn't find any fics that way, but I noticed the author has one story to their credit about Vampire Hunter D.
I gave the prologue a read, and it's interesting enough for me to delve into.  Plus pretty goth boys are my specialty whether they have black or silver hair.  There doesn't seem to be a pairing marked in the story info, but it is designated a drama/romance.
Fanfiction.net doesn't have a place for content warnings, and the author didn't put any near the beginning, but if you decide to check the fic out, there's rape/sexual assault in the prologue (not done by D, ugh, god no).  I'll never forgot the one story I read by one of my favorite fanfiction authors where she shocked me with it.  It was absolutely harrowing, and I'm not typically triggered by rape/assault, but that particular story bothered me and still does today when I think about it 😦
Anyway, I think I'll enjoy this.  Though FFVII is my favorite and really the only fanfic I read, there's no harm branching out.
---
Books Added to Goodreads To Read List This Week: 8

Title: The Knife of Never Letting Go
Series Title: Chaos Walking
Author: Patrick Ness
Date Added: September 16, 2016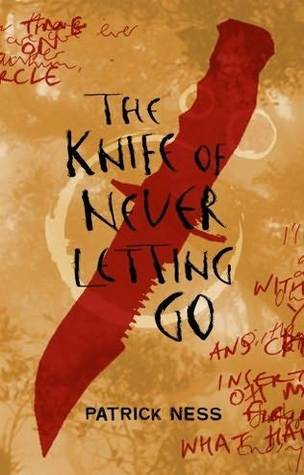 I have to thank the lovely Writing Hufflepuff for this addition, and for giving me another tag post to do (one day lol).  This series was ranked as the most amazing book that defies all other descriptions.  Of course I had to check it out, and the blurb instantly hooked me.  Silence in a world of endless thoughts, and a heart-stopping revelation.  I must know more.
Title: Crane
Series Title: The Legends Saga
Author: Stacey Rourke
Date Added: September 16, 2016
A terse and explosive review from Cupcake and Machetes made me add this one with the added bonus that the book is free on Kindle.  I love reworked fairy tales and folk legends, and this is an add just in time for Halloween.  Not that I'm going to even start it by then (it's highly doubtful), but I can always load up my TBR list with spooky scribblings for scary soirees.
Title: A Tale of Two Airships
Series Title: Take to the Skies
Author: Katherine McIntyre
Date Added: September 16, 2016
I already owned this book, but hadn't added it to my TBR list for some reason.  It's the sequel to my friend and fellow writer's novel An Airship Named Desire.  I still need to read the first Airship, which is conveniently on my Kindle.
Title: The Forgetting
Author: Sharon Cameron
Date Added: September 16, 2016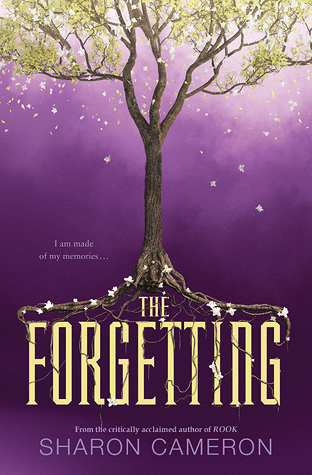 I was immediately interested when the first line of the blurb stated that the MC lived in the land of Canaan, which is often equated with the Promised Land so VII Sense tingling even though I know it's just a shared reference.  I still like it. Then the "forgetting" thing happened.  Every 12 years all memories are forgotten and lost forever unless they're written down.  Memory is a huge thing for me in stories (it also tingles my VII sense for various reasons, too), and only the main character Nadia retains hers in this strange land.  As the time of forgetting approaches, she has to stop an unseen enemy with an ally who will forget her if they don't do it before that time comes.
Title: Wicked as They Come
Series Title: Blud
Author: Delilah S. Dawson
Date Added: September 17, 2016
I haven't read a sexy vampire story since I was into Laurell K Hamilton's Anita Blake series before she went totally porno, and prior to that it was Anne Rice.  I don't like Twilight for reasons beyond the writing style, and though I did enjoy Elizabeth Hunter's Elemental Mysteries series, I haven't had a chance to get back to it.
I have Cupcakes and Machetes to blame again for this addition.  Her review of it was all I really needed.  Not only is it about a sexy vampire, it also features another hidden world.  Those are kind of my favorite as I've been trying to get off this planet fervently for the past few years.  Also, the vampires aren't the bad guys (so it would seem), and in fact may soon be the victims of genocide!  I love tales that mix up paradigms.
Title: The Wonder
Author: Emma Donoghue
Date Added: September 19, 2016
This addition came from a fantastic review of By Hook or By Book.  Emma Donoghue is also the author of Room.  I've neither read this nor seen the movie, but I hear nothing but wonderful things about the prior mentioned and the author. This particular novel is about a girl who supposedly subsists on "manna from heaven."  The phenomenon is not that uncommon dating back to Victorian times; however, it may be the precursor to what we know now of as anorexia.  I'm both fascinated by the possibility in the story itself and the sad origin.
Title: Halfway to the Grave
Series Title: Night Huntress
Author: Jeaniene Frost
Date Added: September 19, 2016
I can't even really put a link since this was recommended to me in a comment by Cupcakes and Machetes.  It has a vampire bounty hunter (as in a bounty hunter who's a vampire a la D from Vampire Hunter D), and I just can't say no to a hot vampire dude.
Note: Hilariously, I added this prior to finding the Vampire Hunter D fanfiction above.  This is clearly a vampire week.
Title: The Complete Sherlock Holmes
Author: Arthur Conan Doyle
Date Added: September 20, 2016
I really can't believe I didn't already have this on my TBR list for classics.  I was scrolling through my Goodreads newsfeed, and someone had added The Sign of Fours, which made me check to see if I had Doyle's famous detective on my reading list.  I thought I had it there and on my Kindle, but I was wrong on both accounts.  Well both wrongs have now been righted.  I purchased the complete works for a paltry $0.99.  I'm not sure what my next classic reading will be, but I'll be sure to fit Sherlock in at some point.
Side note.  I sincerely doubt I'll be able to read this without thinking of Benedict Cumberbatch's beautiful rendition of Sherlock *swoon*
---
Books Added to Goodreads To Reread List This Week: 0

---
Books Purchased This Week: 2

Title: Solid Ground
Author: Katherine McIntyre
Date Purchased: September 16, 2016
I actually read this prior to its release (I was a beta reader), but hadn't purchased it yet, which I did today.  It's a quick read at only 26 pages about best friends in love and the distant between stars that could divide them.
Title: Crane
Series Title: The Legends Saga
Author: Stacey Rourke
Date Purchased: September 16, 2016
As fore mentioned it was free on Kindle so I guess I didn't purchase it per se, but it is now in my possession.
---
What are you currently reading and/or what's on your radar to read next?  What would you recommend based on my current and recently added?  As always I look forward to your comments and suggestions!
<–The State of the Reader: 9/14/16          The State of the Reader: 9/28/16–.
Save
Save
Save
Save
Save
Save
Save
Save
Save
Save