Title: The Gentleman's Guide to Vice and Virtue
Series Title: Montague Siblings
Author: Mackenzi Lee
Date Added: August 18, 2018
Date Started: September 24, 2018
Date Finished: October 16, 2018
Reading Duration: 22 days
Genre: Fantasy, Low Fantasy, Romance, Historical Fiction, Young Adult (YA), LGBTQ+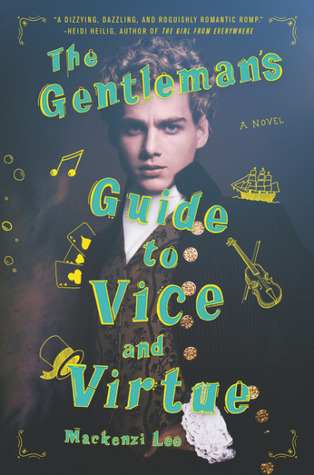 Pages: 513
Publication Date: June 27, 2017
Publisher: Katherine Tegen Books
Media: eBook/Kindle
---
Henry "Monty" Montague was born and bred to be a gentleman, but he was never one to be tamed. The finest boarding schools in England and the constant disapproval of his father haven't been able to curb any of his roguish passions—not for gambling halls, late nights spent with a bottle of spirits, or waking up in the arms of women or men.
But as Monty embarks on his Grand Tour of Europe, his quest for a life filled with pleasure and vice is in danger of coming to an end. Not only does his father expect him to take over the family's estate upon his return, but Monty is also nursing an impossible crush on his best friend and traveling companion, Percy.
Still it isn't in Monty's nature to give up. Even with his younger sister, Felicity, in tow, he vows to make this yearlong escapade one last hedonistic hurrah and flirt with Percy from Paris to Rome. But when one of Monty's reckless decisions turns their trip abroad into a harrowing manhunt that spans across Europe, it calls into question everything he knows, including his relationship with the boy he adores. 
---
CW: Contains discussions of homophobia, biphobia, racism, sexism/misogyny, ableism, and physical abuse
---
"Because I want you to know…that there is life after survival."
Henry Montague or Monty, as he prefers to be called, has been allowed one last hurrah in the form of a Grand Tour of Europe by his dickhead dad before being forced to run the fore mentioned's estates in England on pain of being disinherited.  Prior to the birth of his little brother, dubbed the "Goblin," Monty's status, though unwanted, was still secure as the earl had no one else to pass his title to, his only other issue being a daughter, Felicity.  Even if she could inherit, the house wouldn't remain "in the family" insofar as she'd take the name of the man to whom she was wed.
It's a similar situation to Samwell Tarly in ASOIAF with his father except "at least" Monty's father isn't threatening to kill him, only cut him off if he's found "mucking around with boys again" (Lord Montague has no problem beating the shit out of him, though, but we'll get to that).