This is an unfinished book review as I did not complete the book in question.  Sometimes a story doesn't hold my interest enough or there's a a fatal flaw in the writing that makes it impossible for me to read; however, I feel that I should still put up my impressions of the story and explain why I was unable to make it through.  These reviews will vary in length depending on how much of the novel I was able to complete.
---
Title: The Invisible Library
Series Title: The Invisible Library
Author: Genevieve Cogman
Date Added: June 14, 2016
Date Completed: July 26, 2016
Percentage Read: 17%
Genre: YA, Fantasy, Mystery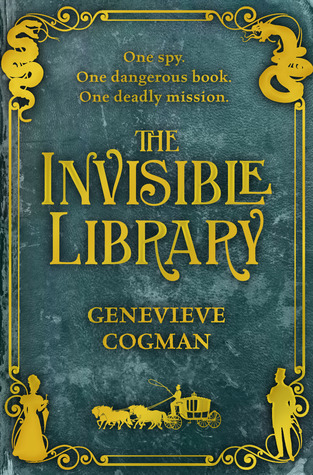 Pages: 329
Publication Date: January 15, 2015
Medium: Paperback
"The first installment of an adventure featuring stolen books, secret agents and forbidden societies – think Doctor Who with librarian spies!
Irene must be at the top of her game or she'll be off the case – permanently…
Irene is a professional spy for the mysterious Library, which harvests fiction from different realities. And along with her enigmatic assistant Kai, she's posted to an alternative London. Their mission – to retrieve a dangerous book. But when they arrive, it's already been stolen. London's underground factions seem prepared to fight to the very death to find her book.
Adding to the jeopardy, this world is chaos-infested – the laws of nature bent to allow supernatural creatures and unpredictable magic. Irene's new assistant is also hiding secrets of his own.
Soon, she's up to her eyebrows in a heady mix of danger, clues and secret societies. Yet failure is not an option – the nature of reality itself is at stake."
---
I really liked the concept of this book: a secret and eternal library as the hub of multiple worlds.  It definitely seemed like what it claimed, librarians with a Doctor Who twist.  The novel starts out strong with the main character Irene masquerading as a serving girl in one of the many alternative worlds in order to get her hands on a book unique to that universe.  It was adventurous, bold, and fast paced, but my issues came in the after when the world of the library was introduced.