<–The State of the Reader: 7/20/16          The State of the Reader: 8/3/16–>
A weekly post updated every Wednesday detailing my current reading projects and where I am with them in addition to what new titles I've added to my to-read list.  Title links go to Goodreads to make it easier for interested parties to add any books that might strike their fancy.  I attempt to use the covers for the edition I'm reading, and I'll mention if this is not the case.  If you have a Goodreads account feel free to friend me!  I'd love to see what you're reading and/or planning to read.
Content Warning: Some discussions of rape as it pertains to narratives.  Some discussions of suicide as it pertains to narratives.
---
Books Finished This Week: 1

Title: The Rape of Lucrece
Author: William Shakespeare
Date Added: December 11, 2015
Date Started: June 25, 2016
Date Finished: July 26, 2016
I have a lot to say about this narrative poem.  In reading it I realized I've seen and used the paradigms in it numerous times.  My paranormal romance novel arguably has the meta-motif of using the assault of a woman to motivate a male character.  This of course causes her erasure from the narrative as a physical entity (it's symbolically similar in this regard to what happens in FFVII :\)  I'm not sure how proud I feel about that.  There are of details that may balance out my trepidation; however, I feel less wary about how I'm planning on using one in my next project The High Lord.  The "if you don't fuck me I'll blackmail you" is still pervasive in both narratives and real life.
My plan is to review Lucrece in the same format as Paradise Lost, which is in video.  As the only equipment I currently possess is a laptop (with camera) and iPhone (also with camera, but a cracked screen and no memory), it may be a while before this happens.  I'm planning on procuring equipment at some point, though I still don't really have a place to record.  I'll keep you all posted (if you're interested).
---
Books Unfinished This Week: 1
Title: The Invisible Library
Series Title: The Invisible Library
Author: Genevieve Cogman
Date Added: June 14, 2016
Date Started: July 17, 2016
Date Declared Unfinished: July 25, 2016
Final Progress: 17%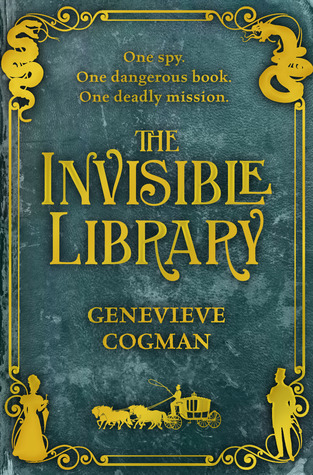 The concept of this book was really interesting.  It was marketed as something Doctor Who fans would really flock, too, and indeed I can see why that would be so.  The characters couldn't seem to settle on any kind of solid personality though (like the Doctor can't settle on a form…see what I did?), and there was too much info dumping.  I usually like that, but it could've been better woven in.
I'll be writing an Unfinished review of this where I'll elaborate more.
---
Books Currently Reading: 1
Change from Last Week: -2
Title: The Mystical Qabalah
Author: Dion Fortune
Date Added: August 13, 2012
Date Started: Unknown
Medium: Paperback
Progress: 69%
I'm still on the chapter about Malkuth.  For some reason I thought I was supposed to finish the one on Yesod last week, but apparently I was supposed to complete Malkuth.  Ah well.  I finished (and unfinished) two books this week.  I'll finish up Malkuth before next Wednesday.  I'm nearly finished the book proper…after ten years.  I suppose that's accurate.  A year for each Holy Sephiroth (I'll show myself out…)